LUCRIN Geneva offers a veritable collection of customisable protective accessories handcrafted in leather for all Apple enthusiasts. For any Apple device you own, we have the perfect complementary leather accessory that will seamlessly integrate into your daily life. Reap the benefits of your iDevices longer by exploring the enhancements that LUCRIN's dedicated cases and covers can add. These sophisticated accessories lend themselves to being completely customisable with colours, tonal stitchings and engravings.
New leather covers, sleeves and wallet cases now available for iPhone 15, iPhone 15 Plus, iPhone 15 Pro & iPhone 15 Pro Max.
iPhone Leather Cases
LUCRIN proposes a noteworthy lineup of customizable leather covers, sleeves and wallet cases for any iPhone model. Built for durability, our sturdy cases are resistant to drops, scratches and impacts making them the ideal amalgamation of protection and functionality. Some of them are even MagSafe compatible! Add a touch of you by customizing the leather, colour and adding an engraving. Exclusive leather cases now available for iPhone 15 models.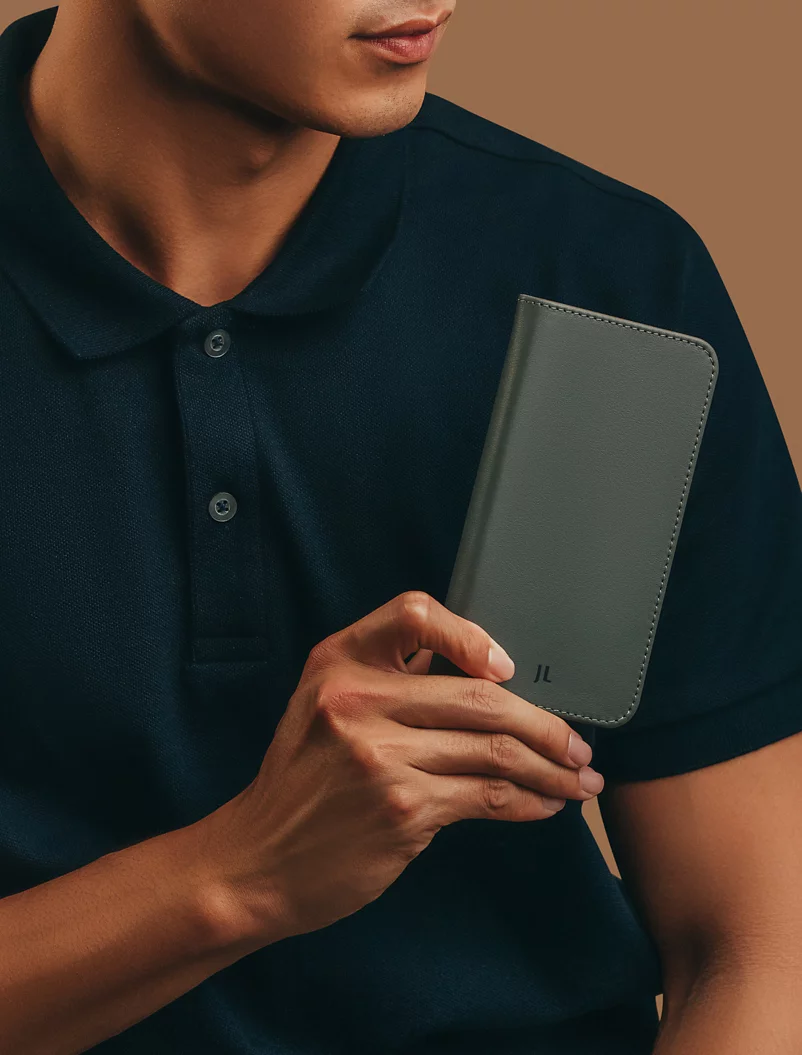 Apple Watch Leather Bands
Love your Apple Watch but not its band? We have an Apple Watch band for every purpose. LUCRIN proposes a myriad of luxury, classic and elegant leather bands that are perfect to wear from your morning meetings to your evening dinners. Tailor in a multitude of colours and monogram your initials so that your urban-chic Apple Watch looks just as great with casual attire as it does with formal ones.
Which Apple Watch are you?
Leather MacBook Cases
LUCRIN proposes countless options for the oh-so ubiquitous yet fragile MacBook. Our leather covers zipped pouches and laptop satchels will win you style points as well as providing superb protection to your device with their snug fit and secure design. Oodles of customization options are at your disposal to personalise your go-to MacBook case.
Which Macbook are you?
iPad Leather Cases
Discover our range of sumptuous leather protection for the iPad Mini and work-focused iPad Pro to prevent your device from collecting dings and scratches. From streamlined smart cases to classic pouches and Apple Pencil sleeves, there is a case for every user. Add a pop of colour and uniqueness by opting for the colour, leather and engraving of your choice.
Which iPad are you?
Leather AirPods Case
A timeless edit of leather AirPods cases designed to add a layer of protection and a dose of style to your hearing devices. Easy access to the ports allow you to connect in a breeze and the cases with carabiner let you clip it to your keys, belt loop or bag for easier portability. Create the perfect case for your style by choosing your preferred colour and engraving your initials.
Which AirPods are you?
MagSafe Charger Dock
For those who have upgraded to the new MagSafe charging, we have created accessories to turn your connector into sleek stationary docks. Our single and double charger dock is perfect for fast wireless charging of your iPhone alone or with your Apple Watch respectively.
More Apple Accessories
If you are all-in the Apple ecosystem, you are bound to own several other iDevices. We, at LUCRIN Geneva, offer you a collection of leather accessories ranging from EarPods and Apple Charger cases to Magic Mouse Pads and HomePod coasters. Fashion in bold, pastel or neutral hues and monogram your name to create the perfect accessory to suit your refined taste.