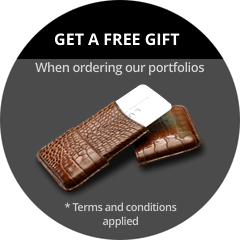 Get a magnificent cards holder as gift!
Buy one of the A4 or A5 portfolios liste below, and get a cards holder in crocodile-style calf leather worth $92 - within the limits of available colors & stocks.
How does it work ?
2. The color of the cards holder to be sent is random - based on the stocks available.
3. This cards case cannot be customized or replaced by another color or model.
4. This is a limited time offer - valid until the February 20, 2019.